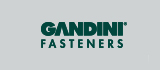 Fasteners distribution:
more than 200.000 items, a storehouse, the only
in Europe, with more than 500 millions pieces ready to delivery
Thousands of items on line,
with data sheets and prices
>
The headquarter
>
Contacts, where we are
>
Gandini Group
>
History
>
Figures
>
CATALOGUES
The Gandini group was founded in 1914 and at present, it is composed as follows:

- an industrial company (Gandini Industria) manufacturing pistons, screws, bolts and mechanical parts thanks to a modern foundry for aluminium alloys with a yearly capacity of over 800 tons

- a commercial company (Gandini Fasteners) distributing trademarks of prestige in the sector of fasteners with warehouses with over 500 million pieces for ready delivery

- a commercial company (Andit Automazione) distributing great trademarks in the field of automation, welding, oxi-cutting and robotics in Italy

Two head offices, three factories, warehouses for over 300 million pieces marketed every year as well as differentiated European and Non-European suppliers
Goods always ready on store, a complete range and an efficient service guarantee our customers, i.e. industries, mainly Italian ones, supplies without solution of continuity for the products that are often of fundamental importance for corporate production.

Technological innovation, automation of warehouses and production, personnel training and product quality are the bases that have enabled the group to transform from a small-size family concern, now at its fourth generation, to a leading company in mechanics, competitive and irreplaceable for the Italian industrial tissue.
NEWS