Types of springs
Gap & Overlap Type
Conventional Gap and Overlap Type Wave Springs are used in a wide variety of applications. For short deflections and low-medium forces, they function with precision and dependability. These two types of Smalley Wave Springs permit radial expansion or growth in diameter within a cavity, without the binding or hang-up normally associated with die stamped wave washers. Just as their terms imply, the gap type is split to retain a gap between the ends, while the overlap type has overlapping ends. Thus, the ends are free to move circumferentially as the spring outside diameter grows during compression. For example, the O.D. of a Gap Type Wave Spring would fit .020 loose per side in a bore. Its I.D. clears a shaft by .010 per side. As the spring is deflected, the O.D. and I.D. grow larger until the O.D. contacts the bore. Continued deflection causes the gap ends to move closer together while the O.D. presses against the bore. An Overlap Type Wave Spring permits this type of cycling action in a similar manner.

Crest to Crest
Crest-to-Crest Wave Springs are prestacked in series, decreasing the spring rate proportionally to the number of turns. Uses are typically applications requiring low-medium spring rates and large deflections with low-medium forces. Among major advantages, this design eliminates the need to keep the wave crests aligned. The need to use a key locating device, or to insert a shim between individual springs is not necessary. Because the spring is integrally formed, the wave peaks hold their configuration.
As a replacement for helical compression springs, Crest-to-Crest springs
can develop similar forces, yet occupy one-half (½) or less the axial space. This allows for strict space constraints. Crest-to-Crest Wave Springs will maintain the same force and load specifications of a conventional round wire spring, but with the advantages of resultant lowered and compacted operating heights, free heights, and solid heights.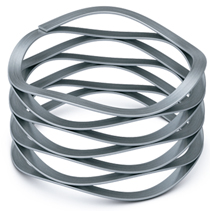 Crest-to-Crest with Optional Shim Ends
Crest-to-Crest Wave Springs are also available with squared-shim ends.
Shim ends provide a 360˚ contact surface when compared to the wave point contact of plain ends. The shim-ends, under load, more evenly distribute the spring?s force upon adjacent components. This feature is similar to the concept of double-disc grinding springs for a flat surface. Shim ends have also been used to affix springs to mating components, as a flat locating surface that may be attached by various methods in the assembly.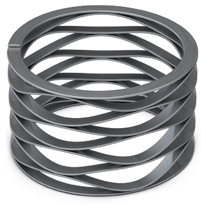 Nested Spirawave® Wave Spring
Nested Wave Springs are pre-stacked in parallel from one continuous filament of flat wire. The need to stack individual springs for higher loads is no longer necessary. Nested springs result in a spring rate that increases proportionally to the number of turns. They can exert tremendous forces, yet maintain the precision of a circular-grain wave spring. In many applications, Nested Wave Springs replace Belleville Springs, particularly in cases where a high but accurate force is needed.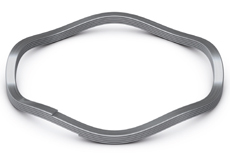 Wavo®
Wavo Springs are produced from round-section wire to provide higher loads while maintaining the accurate loading found in wave springs. As an alternative to Belleville Springs, the Wavo provides similar loads but with an accurate, predictable spring rate.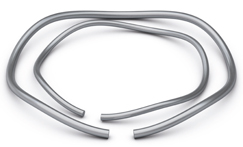 Molle lineari
Linear springs are a continuous wave formed (marcelled) wire length produce from spring tempered materials. They act as a load bearing device having approximately the same load/deflection characteristics as a wave spring. Forces act axially or radially depending on the installed position. Axial pressure is obtained by laying the spring flat in a straight line. Circular wrapping the spring produces a radial force or outward pressure. Linear springs are available cut to length or as a continuous coil, for the user to cut as needed.