Tension pins
Spring pins
The spring pins are the easiest and cheapest way to connect different parts of mechanical components. For their application it is enough drilling holes, expensive bore and adjustment working are not needed.
The spring pins are simply inserted in the hole by a hammer or mechanically by a press. They can be easily removed by a pin and a hammer and reused several times without losing their elasticity. The pin nominal diameter is corresponding to the bore diameter with tolerance H12. The important thing is that the slot will not completely close.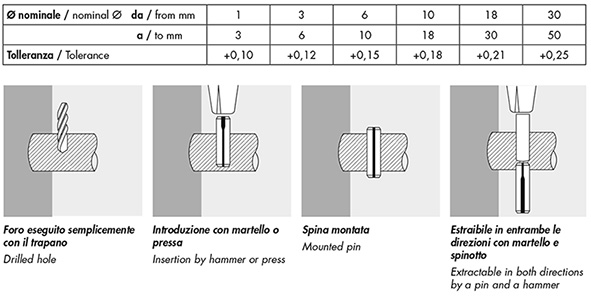 SPECIAL EXECUTIONS FOR AUTOMATIC ASSEMBLING
Due to the slot, wider than material thickness, interlocking risks occur when the spring pins are installed with automatic assembly. To overcome this problem it can be possible to make spring pins with special slots on customer?s demand.